Women's Rights & the Climate Crisis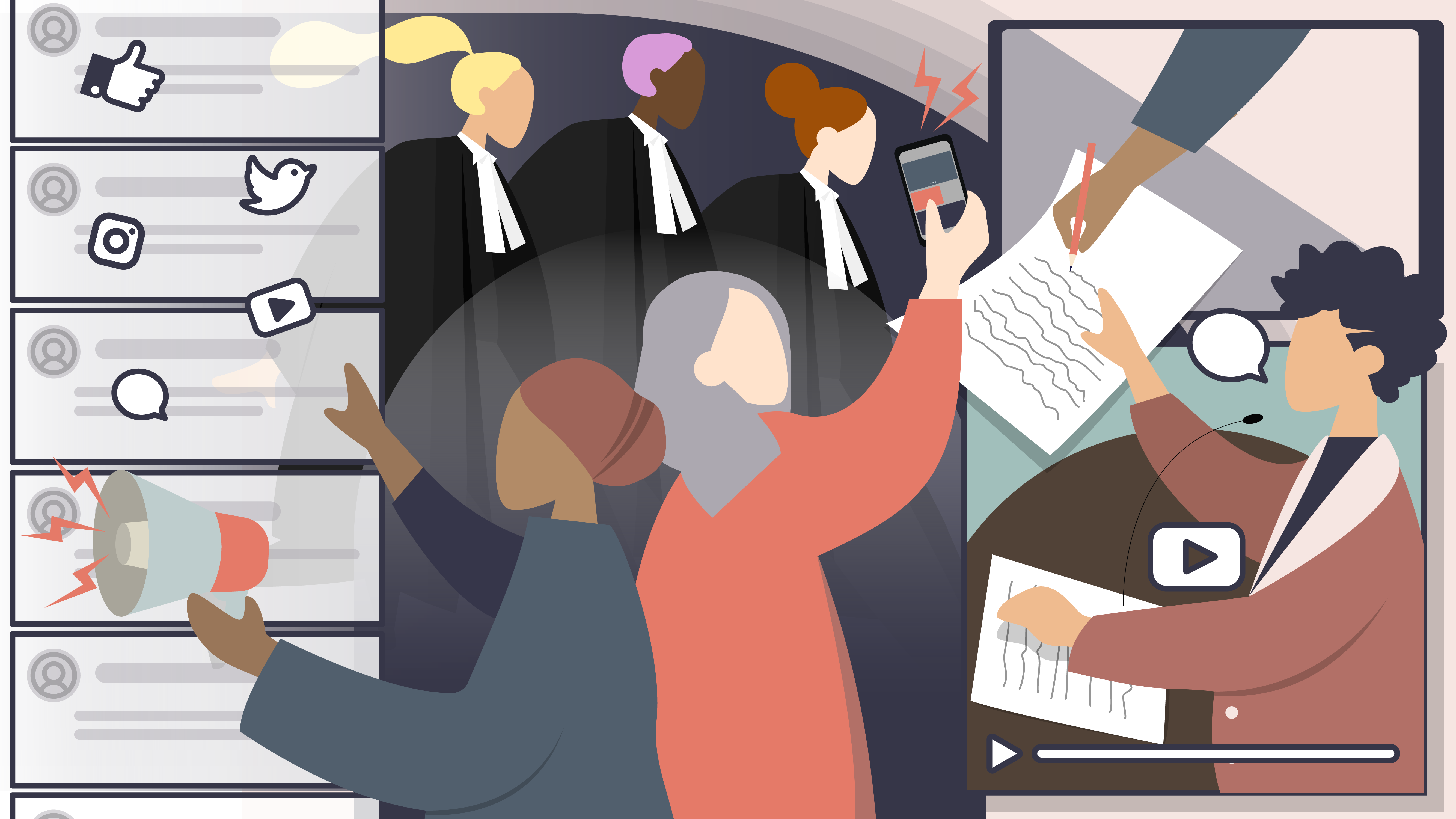 Part 1: The Climate Crisis and Canada
This mini-course on Women's Rights & the Climate Crisis is meant as a complement to NAWL's core modules on Feminist Law Reform. NAWL is grateful to Rose Ghaedi for her invaluable work as the primary author of this mini-course.
Climate change is undeniably impacting ecosystems, individuals, and communities across the globe. The United Nation's Intergovernmental Panel on Climate Change has warned that the planet already faces unavoidable climate hazards over the next two decades at the current warming rate and will face more severe and possibly even irreversible impacts if this warming level is exceeded. As the impacts of climate change have become more destructive and undeniable, climate justice has become an increasingly important movement. Climate justice refers to the idea that differential impacts and responsibilities related to climate change should be acknowledged and addressed. Indeed, climate change can have different, and often more severe, impacts on vulnerable groups. Advocates for climate justice have already pointed out that the "Global North" is the primary driver of climate change and that the "Global South" is disproportionately impacted by the climate hazards caused by this change. In fact, this finding is supported by the Intergovernmental Panel on Climate Change's 6th cycle assessment report. While this critique accurately points out the imbalances in power, capital, and adaptive capacity that make some regions more vulnerable to climate change impacts, it does not reflect the ways in which certain groups within the "Global North"—women and minorities—also face increased vulnerability to the consequences of climate change. For a summary of climate-related hazards and risks in Canada, including differential impacts on vulnerable groups such as indigenous communities, refer to Health Canada's 2022 report on climate change here.
What is Canada's role in the struggle for climate justice?
Like all countries on the Earth, Canada has been and will continue to be impacted by global warming. Between 1948 and 2007, temperatures in Canada increased at a rate approximately twice the global average. Certain regions in Canada, such as the Arctic, are particularly vulnerable to climate change. In fact, the Arctic region is warming four times faster than the rest of the planet, and these warming processes are expected to accelerate even further in the future. Nonetheless, Canada continues to be one of the world's larger per capita carbon polluters and has fallen short of its climate mitigation goals under International climate agreements.
How are women specifically impacted by climate change?
Climate change poses unique risks to and challenges for women worldwide. Climate catastrophes such as heat waves, floods, and droughts tend to disproportionately impact women because this group is more likely to live in poverty and less likely to be able to move freely. In addition, women are more likely to face violence in times of instability, such as after a flood. In Canada, extractive industries both directly and indirectly contribute to food insecurity, to which women are particularly vulnerable. This is because extractive industries often pollute nearby ecosystems, co-opt local farming land, and contribute to rising food prices. The presence of extractive industries in Indigenous communities has also been linked to increases in gender-based violence. The United Nations has created an explainer on the intersections between gender inequality and climate change which can be accessed here.
Despite the many unique climate-related issues faced by women, women are generally underrepresented in climate work at the international level. Moreover, feminist perspectives on ecological matters are often marginalized; examples include the 2016 exclusion of the Native Women's Association of Canada from a major meeting on Climate Change in Vancouver and the online backlash against Catherine McKenna, Canada's 2015 to 2019 Minister of Environment and Climate Change, in response to her advocacy for increased attention to gendered dimensions of climate change.
Read
Part 2: Ecofeminist Critiques of the Climate Crisis
Although women are disproportionately impacted by climate change and have long been on the frontlines of climate activism, women's issues and perspectives have historically been ignored in climate change efforts. Gender considerations are mentioned in some international climate-related agreements, but they are often merely symbolic. For example, the Paris Agreement only includes two mentions of gender, which are in its preamble rather than in the operational text.
The Preamble to the Paris Agreement states: "Acknowledging that climate change is a common concern of humankind, Parties should, when taking action to address climate change, respect, promote and consider their respective obligations on human rights, the right to health, the rights of indigenous peoples, local communities, migrants, children, persons with disabilities and people in vulnerable situations and the right to development, as well as gender equality, empowerment of women and intergenerational equity."
How are women included or excluded in the energy sector?
Women are also underrepresented in climate mitigation efforts such as the expansion of the renewable energy sector. In fact, both the fossil fuel and renewable energy workforces are highly gender stratified. Women are most concentrated in lower-paid roles involving menial work and least represented in management, design, and policymaking positions. Although the expansion of the renewable energy industry represents a significant attempt to reduce carbon emissions while also supporting job creation, women have not benefitted from these efforts: women in countries such as Canada, the United States, Spain, Germany, and Italy hold only 20-25% of jobs in this sector, the majority of which are nontechnical and nonmanagerial. The under-representation of women in the renewable energy sector points to wider societal gender imbalances. For example, women are underrepresented in both STEM fields and trades-workforce training, which prevents them from fully participating in the renewable energy industry.
Women's unpaid labour in terms of household and caring responsibilities are also subject to unacknowledged climate change impacts. Green activities such as recycling or prioritizing off-peak electricity usage often create disproportionate burdens on women because of unequal distributions of domestic work. Moreover, as climate change impacts community and individual health outcomes, women are disproportionately affected in their role of primary caregivers. Because women's unpaid work is underrecognized and depoliticized, these issues are often rendered invisible in public and political discourses about climate change.
How does climate change impact Indigenous women in particular?
Indigenous women are particularly vulnerable to climate change and have also been leaders in Canadian climate amelioration efforts. As a result of Canada's colonial practices and historical underserving of Indigenous communities, a variety of factors such as poverty, information deficit, sociopolitical inequalities, and lack of institutional and technological capacity have impacted the ability of various Canadian Indigenous communities to adapt to climate change impacts. These factors interact with social statuses such as gender, income, age, education, and others to create a complex web of impacts and vulnerabilities for Indigenous communities and Indigenous women in particular.
Food insecurity in the Arctic is a valuable case study that shows how the above factors can create differential impacts for women and vulnerable communities. Climate change and pollution have placed at risk the health and survival of a number of animal species that Inuit communities critically depend upon as traditional food sources. With these animals becoming scarcer and more contaminated, and given that store-bought food options are often unhealthy and expensive, Inuit communities are not facing increased economic and health difficulties. Inuit women, particularly women heading single-parent households, experience greater food insecurity than men because they have less access to traditional foods, paid employment, and healthy food alternatives.
A study completed in Igloolik, Nunavut in 2007 found that:
64% of surveyed participants had experienced some degree of food insecurity in the previous year
80% of female respondents stated they had experienced food insecurity issues, compared to 50% of male respondents
Food insecurity was less prevalent amongst those who had access to traditional foods
Women were significantly more likely than men to skip meals, go hungry due to lack of food, or not eat for an entire day
What are some ecofeminist critiques of common climate mitigation approaches?
Many countries have now pledged to reach "net zero" carbon emissions by mid-century as per the Paris Agreement objectives, including the world's three largest greenhouse gas emitters (the United States, China, and the European Union). Many cities, regional governments, and even some corporations have also made net zero pledges. However, the concept of net zero emissions is more complicated than it may seem. Net zero is a scientific concept reflecting the idea that for global average temperatures to remain within certain limits, there is a finite budget of carbon dioxide that can be allowed into the atmosphere. Any further emissions beyond this budget must be counterbalanced by the removal of CO2 in the atmosphere into sinks. Even on a purely scientific level, there are various definitions and timescales for net zero. However, as a policy goal, net zero requires major developments in political and economic spheres and thus engages many ethical concerns, societal injustices, and political interests. Critics of the current net-zero narrative have pointed out that net-zero programs often fail to address non-CO2 drivers of climate change and do not set up long-term and sustainable goals. Many countries that have pledged to achieve net-zero emissions have not established adequate governance and accountability mechanism to ensure these goals are met.
In addition, many feminist activists have criticized many net-zero programs for their reliance on carbon offset schemes. Carbon offset schemes allow entities to invest in environmental amelioration programs in order to balance out their carbon footprints. Many activists have critiqued these programs for essentially allowing companies to "pay to pollute." Other feminist activists, such as Elaine Hughes, have argued that these programs are purely anthropocentric, since they focus only on limiting carbon emissions to levels where they will not harm human interests, and do not adequately address larger concerns about sustainability, equity, and human-ecosystem relationships.
Part 3: Climate Activism at the International and Federal Levels
Climate change has been an important focus of global cooperation, as well as International and federal policy and law-making for several decades. Canada has been an active participant in international cooperative efforts on climate change, particularly as a leading figure in the creation of the 2015 Paris Agreement. The Paris Agreement is a legally binding international treaty signed by 193 parties that sets out long-term goals for all nations in order to limit the impact of climate change. Although the Paris Agreement is currently the pre-eminent international treaty on climate change, it is by no means the first. Canada had previously made commitments as part of international agreements such as the 1992 United Nations Framework Convention on Climate Change, the 1998 International Conference on the Changing Atmosphere, the 1998 Kyoto Protocol, and the 2010 Cancun Agreement. Nonetheless, Canada has continued to pollute the atmosphere and contribute to climate change.
Are women adequately represented in federal and international climate change discourses?
Women are significantly underrepresented in federal and international discussions about climate change. Notably, statistical analyses have shown that, even though it has reduced over time, significant gender disparity remains common in UN and other climate negotiations. The increasing awareness of women's unique vulnerability to climate change worldwide has not been reflected by increased representation in climate change decision-making.
Women's underrepresentation creates a lack of collective autonomy that prevents women from participating in decision-making processes that will impact their lives in major ways. It also relegates women's issues and the work of women's groups to localized rather than global forums. Because of the global nature of climate change and because of nations' economic interdependence due to globalization, national governments are extremely important actors in decision-making on climate change. However, non-state actors such as NGOs and charities that focus on women's climate change concerns, can also be instrumental in influencing international climate discussion in a feminist way.
While Canada is legally bound by its international commitments, it is up to the federal and provincial governments to implement those promises in Canadian law, practice, and regulation. In 2021, Canada enacted the Canadian Net-Zero Emissions Accountability Act. While this Act does enshrine Canada's emission reduction goals and require various government officials to create and publish plans and reports regarding climate change and emissions reduction efforts, the Act does not create binding, substantive obligations. Nonetheless, it could become a new tool or opportunity to contest Canada's climate actions-or lack thereof. Canada has also implemented federal carbon pollution measures for business and has announced an oil and gas emissions cap, although the specifics of the cap have not been finalized as of September 2022.
What is a cap on emissions and how does it work?
A cap-and-trade program is an emissions control policy that involves the government setting a firm limit on pollution. This maximum amount of pollution is then distributed amongst companies so that each is given a specific emissions allowance. If a company emits less than their maximum allowance, it can sell the remaining allowance to other companies. Cap-and-trade programs aim to encourage businesses to find effective emission-reducing measures both by allowing them to trade remaining allowances and by reducing the maximum cap over time. However, many environmental justice groups, such as the Sierra Club, have opposed the expansion of cap-and-trade programs because they believe that such programs do not do enough to limit pollution and allow the greatest polluters to simply purchase larger allowances. On the other hand, some scholars have also argued that carefully designed cap-and-trade programs, when combined with other initiatives such as subsidies for renewable energy projects, can be both environmentally and economically effective.
Currently, the Canadian Environmental Protection Act (CEPA) is the federal government's main environmental legislation. However, CEPA has not been substantively updated since it was first created in 1999 and does not reflect current understandings of the climate crisis. As of 2022, several bills aiming to bring CEPA in line with Canada's international climate change commitments are moving through the federal legislative process.
One important development in Canadian environment legislation is the attempt to create a right to a healthy environment through Bill S-5, which is the Strengthening Environmental Protection for a Healthier Canada Act. The right to a healthy environment currently exists in the Québec Charter of Human Rights and Freedoms, but a federal right would cover all Canadians and ensure that the federal government has a corresponding duty to preserve the environment. Another bill, titled A National Strategy to Redress Environmental Racism, aims to create a national plan to deal with environmental racism. As of August 2022, these bills are still moving through the federal legislature; check in on their progress and on other federal bills being considered at this link.
What could the right to a healthy environment mean?
Although Bill S-5 is a federal bill and thus cannot create constitutionally-protected rights, the establishment of a federal right to a healthy environment would be a powerful step forward for climate activism in Canada. Firstly, it would standardize environmental rights across Canada, even in provinces that have been comparatively resistant to climate mitigation work. Secondly, it would allow legal and legislative discussions of climate change to move past simple cost-benefit analyses and toward a human rights discourse that acknowledges climate change's many individual and community impacts.
All rights are balanced against other rights, concerns, and priorities. The exact method of balancing is often left to courts to decide, as in the case of many Charter rights. Scholars have a variety of ideas about what a right to a healthy environment could mean in Canada and how it could be balanced against other existing rights. Although this right would be granted only to humans in Canada, it would necessarily include the protection of ecosystems and some other species. If a federal right to a healthy environment is recognized, climate activists could advocate for an expansive interpretation to ensure a robust protection of this right. While the minimum scope of the right would protect only what is absolutely necessary to preserve adequate supplies and human safety, an ideal environmental rights programme would provide much greater protections and work to ensure that biological and cultural support systems do not deteriorate to a minimal survival level. A rights-based approach to environmental law could also increase the ability of affected citizens to be involved in decision-making processes, rather than leaving the government as the final judge and protector of the environment.
What is environmental racism and why do we need to address it?
The term environmental racism was first used by the civil rights activist Benjamin Chavis in 1982. Chavis defined environmental racism as "the deliberate targeting of ethnic and minority communities for exposure to toxic and hazardous waste sites and facilities, coupled with the systematic exclusion of minorities in environmental policy making, enforcement, and remediation." The phrase has also been used more generally to describe the disproportionate burdens placed on racialized and minority communities by environmental decision-making.
In Canada, racialized communities and Indigenous people are regularly faced with higher levels of environmental risk than white people. This increased risk can oftentimes be explicit and deliberate, as in the case of oil sands fields that regularly endanger Indigenous and Métis communities through exposure to toxic chemicals. In other cases, the increased risk is unintentional but unaddressed, as in the case of increases in gender-based violence towards Indigenous women at resource extraction work sites. Environmental racism can also come in less obvious forms, such as a lack of access to adequate health care services exacerbating the increased health risks caused by climate change. A federally funded report into environmental racism across Canada, as suggested by the federal bill discussed above, would provide valuable information on the exact kinds of environmental racism that are currently playing out in Canada.
How could the Canadian government fight climate change through food policy?
Because the meat industry has one of the highest rates of occupational injury and exploits the most marginalized workers such as women, people of color, and immigrants, holding the Canadian government accountable for the routine human rights violation conducted in animal exploitation industries is a project ripe for feminist and climate-conscious law reform efforts.
The raising and slaughter of non-human animals for food has devastating impacts on climate change, pandemics, and deforestation, yet these impacts have most been ignored by Canadian governments. Divesting subsidies from this industry and implementing plans to help farmers transition to plant-based food production could be invaluable in addressing the climate crisis. Click here to read a letter by animal and environmental organizations urging the federal government to take action on these issues.
Watch
Part 4: Climate Activism at the Provincial/Territorial and Municipal Levels
Because the federal and provincial governments share jurisdiction over the environment, effective climate activism must focus on both levels of government. Although climate change is a global issue, its impact can often be extremely specific and localized, meaning that municipal or community-based advocacy can be effective in mitigating specific climate concerns. Interested advocates can learn more about law reform at various levels of government by looking through FLR 101's provincial/territorial and municipal mini-courses. You can also click here to look at the government of Canada's climate action map, which details various local and provincial climate-related projects across the country. A growing number of cities are adopting climate change plans. However, specific groups are sometimes excluded or insufficiently considered in those plans. Climate action at the municipal and at other levels must take into account the needs of disabled people, migrant workers, single parents, and other marginalized people.
Provincial climate change action
Each province or territory experiences the climate crisis in its own unique environmental, legal, socio-economic, and political contexts. For example, Québec chose to enshrine the right to a healthy environment in its Charter of Human Rights and Freedoms, which can be read here. S.46.1 of the Charter holds that every person has a right to live in a healthful environment in which biodiversity is preserved. This suggests a responsibility not only to human lives, but also to animal lives and ecosystems. As of 2022, other provinces, such as Prince Edward Island, are also considering bills that would create similar environmental rights.
In Ontario, Bill 94 aims to enact the Climate Crisis Health Action Plan Act, which would require the development of a plan detailing the Ontario health system's response to health risks posed by the climate crisis. Given the traditional role of women as caregivers and support figures, as well as the unique health threats that they face as a result of climate change, such a plan could be an invaluable site of advocacy for women's climate issues.
In areas where resource extraction industries represent a large portion of the economy, such as Alberta and Saskatchewan, climate change presents unique challenges. The prairie provinces are particularly vulnerable to extreme weather events such as flooding, drought, and wildfire. While provincial and municipal governments have begun to implement countermeasures that aim to mitigate these risks, such as Manitoba's Watershed Districts Program, a wider commitment to diversifying prairie economies and moving away from oil and gas dependency will be necessary to prevent further climate risks from materializing.
Provinces can also take on important work in terms of preparing the workforce to transition to a green economy. This can include creating plans and training systems to support workers looking to join the renewable energy sector or transition out of the oil and gas industry. Workforce retraining programs could also work to address some of the issues facing women working in the energy sector, such as the lack of mentorship, training, and workforce culture acceptance.
Links to provincial and territorial posted bills.
How can the climate crisis impact us on a municipal level?
The global impacts of the climate crisis are filtered through local ecosystems, community features, and individual characteristics to create unique effects in each municipality. Therefore, there is no way to divorce climate activism from the daily lives of citizens in municipalities.
One example of how climate change intersects with the lived realities of women at the municipal level is Toronto's introduction of basement flooding programs. Due to the effects of climate change, which have increased summer rainfalls, Toronto's water and sewer infrastructure is often overtaxed, leading to sewage overflows. In response, the City of Toronto has provided subsidies to homeowners who wish to install flood prevention devices. However, due to the wage gap between men and women, women are more likely to be renters and to occupy basement apartments. Thus, they are both more vulnerable to climate change impacts, as they are directly impacted by basement flooding, and less likely to benefit from municipal subsidies aimed at homeowners.
What opportunities are there for climate change advocacy at the municipal level?
Given that many climate impacts will be dependent on the specific capacities of various communities, local climate advocacy will look different in every municipality. One benefit of municipal advocacy is that grassroots work can be undertaken to physically protect the environment. For example, the Antler River Rally in London, Ontario, organizes a monthly cleanup of London's Thames River while also acknowledging the specific interactions between homelessness, drug use and environmental pollution in London.
Indigenous groups are often local leaders in climate change advocacy. One such example is the Great Lakes Water Walk, where Indigenous grandmothers and seniors led a walk around the Lake Ontario waterfront to clean these important waterways and bring attention to water pollution. Click here to learn more about the Great Lakes Water Walk.
Municipalities looking for funding to take on climate-related projects can apply to the Municipalities for Climate Innovation Program.
To learn more about advocacy at the municipal level, check out the Feminist Law Reform's municipal module here.
Engage & Discuss
What specific climate change impacts are the most threatening to your community?
Is there any grassroots work that could be undertaken to build community capacity to deal with these threats?
Who are your local city counsellors, and what is their stance on climate change?
Have they taken any steps to deal with local climate issues? If not, how can you bring these issues to their attention?
Part 5: Climate Change in the Courts
Although the legislature is responsible for enacting new laws, the judicial branch of government is often responsible for interpreting and enforcing these laws. Therefore, courts are an important area for law reform and climate advocacy. In fact, as climate-related crises continue to multiply, it's likely that courts will face an ever-greater amount of climate litigation.
While climate litigation can be a powerful tool for change, it is not without its drawbacks. For one, high court costs and the general inaccessibility of the justice system can discourage many parties with valid claims from pursuing them in court. Litigation is also always retrospective by its very nature—climate litigation can generally only help address damages after they have been inflicted, rather than preemptively avoid damages. For climate litigation to meet its legal reform goals, activists must develop reasonable expectations and clear goals. Click here to see the Women's Legal and Education Fund's 2022-2026 Feminist Strategic Litigation Plan, which describes a variety of concerns and opportunities for feminist organizations looking to create legal change through the judicial system.
References re Greenhouse Gas Pollution Pricing Act, 2021 SCC 11
One particularly interesting piece of climate litigation is the Supreme Court's 2021 reference regarding the Greenhouse Gas Pollution Pricing Act. A reference occurs when a government body refers a legal question to the court; in this case, the provincial governments of Saskatchewan, Alberta and Ontario asked their provincial appellate courts whether the federal government had the jurisdictional power to create the Act, which created minimum fuel charges for carbon-based fuel and pricing mechanisms for industrial greenhouse gas emissions. The provinces felt that this infringed on their jurisdictional powers under s.92 of the Constitution Act, 1867. The question reached the Supreme Court of Canada on appeal.
When a case is of particular importance, interested stakeholders will often want to share their concerns by intervening in said case. If the Court accepts their application to be intervenors, they can share their view of the potential impacts of the case. Because the Greenhouse Gas Reference had huge implications for the future of environmental law in Canada, there were many intervenors in the reference.
This includes the National Association of Women and the Law and Friends of the Earth, who intervened jointly to provide a feminist perspective on climate change and argue that the issue of climate change is of sufficient national concern and presents a severe enough emergency threat to Canada to justify finding the legislation constitutional. Other organizations such as the David Suzuki Foundation and the Canadian Labour Congress also intervened, alongside Indigenous leaders such as the Athabasca Chipewyan First Nation. Interventions are an important way to ensure minority concerns are heard in court, as well as an opportunity for coalition building among advocacy groups. Unfortunately, the Supreme Court did not adopt NAWL's feminist approach to the issue, but it did ultimately decide that the issue of climate change was of sufficient national concern to justify granting federal jurisdiction.

Click here to watch NAWL and Friends of the Earth's intervention (intervention is at 2:31:30-2:36:30).
Concerns for climate litigation in the courts
There are several limitations to climate change litigation. Generally, courts focus on answering questions of law, rather than questions of policy. While this does not mean that courts can never weigh in on politically controversial questions, courts will find issues to be "non-justiciable" if there is no question of law that they can answer and enforce. Because climate change is such a political issue, this can often create difficulties for parties attempting to litigate climate-related matters in the courts.
Another issue is the question of scientific certainty. Courts often rely on experts to advise them on scientific questions such as whether a particular chemical should be classified as toxic or a pollutant. While scientific backing is certainly important for environmental analyses, complete deference to scientific certainty betrays the fundamental work of Courts, who often have to make decisions in uncertain circumstances. In fact, the precautionary principle of environmental work states that a policy-based decision should be made even where a substance has not been proven beyond scientific doubt to be toxic. Environmental analyses have also historically ignored the lived experiences of marginalized communities, such as Indigenous peoples, who are directly affected by toxic substances, as well as the impact of pollutants on non-human animals.
Climate litigation can have international implications. Canada is home to many transnational corporations whose resource extraction projects take place around the world, often in developing countries. These corporations are the primary actors perpetuating environmental damage—in addition to human rights violations that directly affect women, such as gender-based violence around resource extraction work camps—, yet there is a great deal of uncertainty around litigating and enforcing judgements against them. Although the damage is being done overseas, much of the decision-making and policy creation is being done in these corporations' head offices in Canada. Legal claims are increasingly being launched in courts of the home states of transnational corporations, including Canada, by victims of environmental damage against the corporation. However, concerns about sovereignty and jurisdiction can prevent these claims from moving forwards. For example, it can be extremely difficult to enforce judgements against parties that do not operate in the jurisdiction where a court made the decision, particularly if the party is a powerful transnational corporation hosted by an overseas country. As a host state, Canada has an important role to play in ensuring that its corporate entities meet minimum environmental standards both at home and abroad. To do otherwise would be to continue perpetuating climate injustice and historical patterns of colonialism and exploitation, whereby the Global North benefits while the Global South suffers the consequences of resource extraction and other environmentally damaging practices.
Can climate change litigation help keep governments accountable to their citizens for protecting the climate?
As climate change has become an increasingly pressing concern, particularly for vulnerable populations such as youths and indigenous peoples, more and more parties have tried to use the legal system to directly hold the government responsible for its duties and climate commitments. Several groups have tried to sue the government of Canada for failing to preserve their equality rights under s.15 of the Canadian Charter of Rights and Freedoms by allowing climate change to continue and impact their ways of life. These cases illustrate the increasing concerns of individuals and communities about climate change and their attempts to directly force government action through the judicial system.
Because climate litigation can have major impacts on Canadian environmental law and policy, climate organizations often monitor any potential climate suits. Members of the public can consult online climate change litigation databases like Climate Case Chart and the websites of environmental law organizations like the Environmental Law Centre for coverage of Canadian climate cases.
Interested law reformers can follow along with the below cases to see how advocates can use legal principles to articulate climate-change related claims against the government:
Mathur et al v. Ontario: Seven young people, backed by the organization Ecojustice, are suing the Ontario government for violating their Charter rights to life, equality, and security of the person. They argue that their rights are violated by the Cap and Trade Cancellation Act, which repeals previous climate-related legislation and weakens Ontario's climate targets. While the government filed a motion to strike the case in 2020, the courts have allowed the case to proceed to a full hearing, a historic win for climate litigation in Canada. The hearing before the Ontario Superior Court took place in September 2022. Click here to follow the evolution of the case.
La Rose et al. v. Canada: La Rose involved a lawsuit by Canadian youths against the Canadian government for its contribution to and inaction against climate change. They argued that children and youth are uniquely vulnerable to the impacts of climate change and thus are impacted unequally by the deficiency of environmental laws. The plaintiffs also believed that the government's failure to address the existential threat of climate change infringed upon their section 7 rights to life, liberty, and security of the person. The case did not go forward because, in 2020, the Federal Court concluded that the claims were not justiciable and/or disclosed no reasonable cause of action.
ENvironnement JEUnesse v. Canada: The non-profit organization ENvironnement JEUnesse tried to bring a class action against the Canadian government in the Superior Court of Québec on behalf of Québec citizens aged 35 and under. They wanted the Court to declare that the Canadian government had failed its obligations to protect young people under the Canadian Charter of Rights and Freedoms and the Québec Charter of Rights and Freedoms. Their application for authorization to institute a class action was rejected by the Superior Court. The Québec Court of Appeal dismissed the appeal and, in 2022, the Supreme Court denied leave to appeal.
Misdzi Yikh v. Canada (also known as Lho'imggin et al. v. Canada): This is a legal challenge from members of the Wet'suwet'en indigenous groups against the Canadian government's approach to climate change. They allege that Canada has contravened its international obligations to fight climate change, including its obligations under the 2015 Paris Agreement. The plaintiffs state that they have experienced serious detrimental effects from global warming on their territories and that Canada's historically poor treatment of indigenous groups has exacerbated the impacts of the climate crisis on their communities. The Federal Court concluded that the claim was not justiciable. As of September 2022, the plaintiffs, who are appealing the decision before the Federal Court of Appeal, are waiting for a hearing date. Click here to monitor the evolution of the case.
As we can see, procedural hurdles remain an important obstacle to climate litigation in Canada, although the Mathur case offers hope that courts will become increasingly open to consider climate justice issues as justiciable – that is, as proper matters to be decided by courts based on legal principles.